Dakota Medical Foundation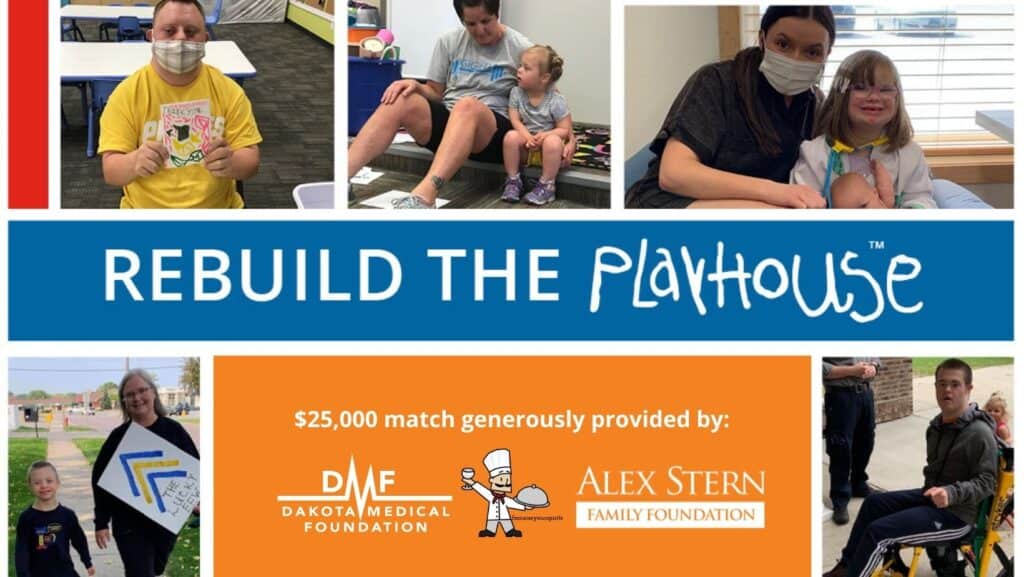 A Nonprofit Greatly Impacting Health in Our Region
On May 11, a fire tore through a South Fargo strip mall, putting all GiGi's Playhouse services on hold indefinitely. What stood as North Dakota's only Down Syndrome Achievement Center has been reduced to practically nothing.
What stood as North Dakota's only Down Syndrome Achievement Center has been reduced to practically nothing. The facility was a second home to people of all ages with Down syndrome and their families. It was here that they found hope and acceptance through GiGi's programs. Without a facility, they have lost the capacity to provide in-person services.
GiGi's Playhouse has been an active Giving Hearts Day charity since 2015. As such, we feel compelled to lend a hand to this member of our Giving Hearts Day family. That is why Dakota Medical Foundation, Alex Stern Family Foundation, and FM Raise Your Spirits have partnered to provide matching dollars for the first $25,000 raised for the Playhouse.
DMF Executive Director Pat Traynor explains, "Our job is to help charities reach their full potential to serve. We are eager to provide these match dollars so GiGi's can return to providing meaningful, impactful opportunities to individuals with Down syndrome."
GiGi's Playhouse is 100% donor-funded, so they need help from our generous, caring community more than ever before. The best way you can help is with a financial contribution. Checks can be dropped off at Dakota Medical Foundation or any VISIONBank location. Online donations can be made at GiGisPlayhouse.org/Fargo.
GiGi's Playhouse Executive Director Heather Lorenzen says, "GiGi's Playhouse provides individuals with Down syndrome the ability to excel in therapeutic, social, and educational opportunities. We are so grateful for the organizations that believe in GiGi's and are rising together with us to rebuild the Playhouse."
Let's join in support of a facility that is greatly impacting health in our region.
FM Raise Your Spirits is a 501c3 nonprofit organization that, through its annual gala, raises awareness and revenue for nonprofits selected by the public and also celebrates extraordinary volunteer efforts.
Dakota Medical Foundation works with and through others to build the fundraising success of charities, invest in new ideas that promote widespread health improvement, and create a region of the healthiest people possible.
The Alex Stern Family Foundation supports the arts, social welfare/human services, education, youth recreation, civic projects, and health issues for the benefit of the greater Fargo-Moorhead area.