Dakota Medical Foundation
Member Spotlight: Nola McNeally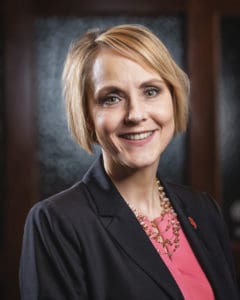 Read on to learn more about DMF Board Member Nola McNeally.
Occupation: Edgewood REIT – General Counsel
Hometown:

Glen Ullin, ND
Education: Undergraduate – UND/MSUM and JD from University of North Dakota School of Law
DMF Role(s): Member and a member of the board of directors. I also served on the Lend A Hand Up committee years ago.
Hobbies: Cooking, gardening/yard work, reading, traveling and spending time with my family.
Favorite Food: I love all food. :>) My favorite is probably Italian.
Coffee Order: Mostly straight up black coffee.
Favorite Travel Spot: Bar Harbor, Maine or Disney World
Words to Live By: "…people will forget what you said, people will forget what you did, but people will never forget how you made them feel." – Maya Angelou
How did you get involved with DMF?
Through my board service with the Cullen Children's Foundation, I was invited to serve on the Lend A Hand Up committee and it went from there!
What part of DMF's vision/mission resonates the most with you?
To think boldly! Giving Hearts Day is truly my favorite day of the year!
What does the healthiest, most generous region in the world look like to you?
It embodies a society that thinks bigger/beyond itself ("boldly") and never stops striving to leave the world a better place than how we found it.
Who is your role model and why?
Patricia Monson. She is an amazing power in a small package! She inspired me to go to law school – supporting my ambitions and mentoring me to reach my goals. As I have watched and done my best to support her through the journey of losing her daughter, Rachel, to cancer – she inspires me even more. She never stops and continues with the Live Like Rach mission – even though I know it is a very difficult journey for her. To have had her friendship these 30 years is a true blessing. She makes me strive to be a better person and to never forget what is important.
How would you advise people to dream more boldly in their day-to-day lives?
Don't be limited by your fear or inner doubts. Don't look back and say "I wish I would have," – and remember – most things are not about you!