Dakota Medical Foundation
Member Spotlight: Kim Meyer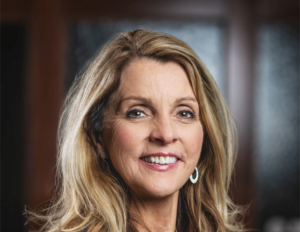 This month, we're getting to know Kim Meyer, DMF Vice Chair. 
Occupation: Executive Vice President and Chief Human Resources Officer of Gate City Bank
Hometown: Hawley, MN
Education: MSUM & Graduate School of Banking 
DMF Role(s): Vice Chair & Governance Committee Member 
Hobbies: Spending time with my Bernadoodle, Izzy; walking; biking; spending time at the lake; driving my '67 Mustang
Favorite Food: Guacamole or anything with avocado in/on it 
Coffee Order: Medium roast with skim milk 
Favorite Travel Spot: The Hills of South Dakota or an island 
Words to Live By: "Be who you are and say what you feel, because those who mind don't matter and those who matter don't mind." -Dr. Suess 
How did you get involved with DMF?
I really got to know DMF through Gate City Bank's partnership in Giving Hearts Day. I remember spending the day with the DMF team from 6:00 a.m. and then coming back and leaving at midnight. It was so fun. 
What part of DMF's vision/mission resonates the most with you?
Building the fundraising success of charities – I think of the good work DMF does to create friendraisers and grow beanstalks in helping charities. They are not only building great leaders at the non-profit organizations, but helping them grow their board and helping them grow their financial impact. 
What does the healthiest, most generous region in the world look like to you?
A region that is full of kind, caring people who love and help their neighbors. 
Who is your role model and why?
My Mom is my role model. She passed away about two years ago and she was calm, kind, caring, and fun to be around. 
How would you advise people to dream more boldly in their day-to-day lives?
Try something for the first time – listen to a different genre of music, try new food, read a different publication, take a lesson in something new, take a different route to work. That is the start of something big!