Dakota Medical Foundation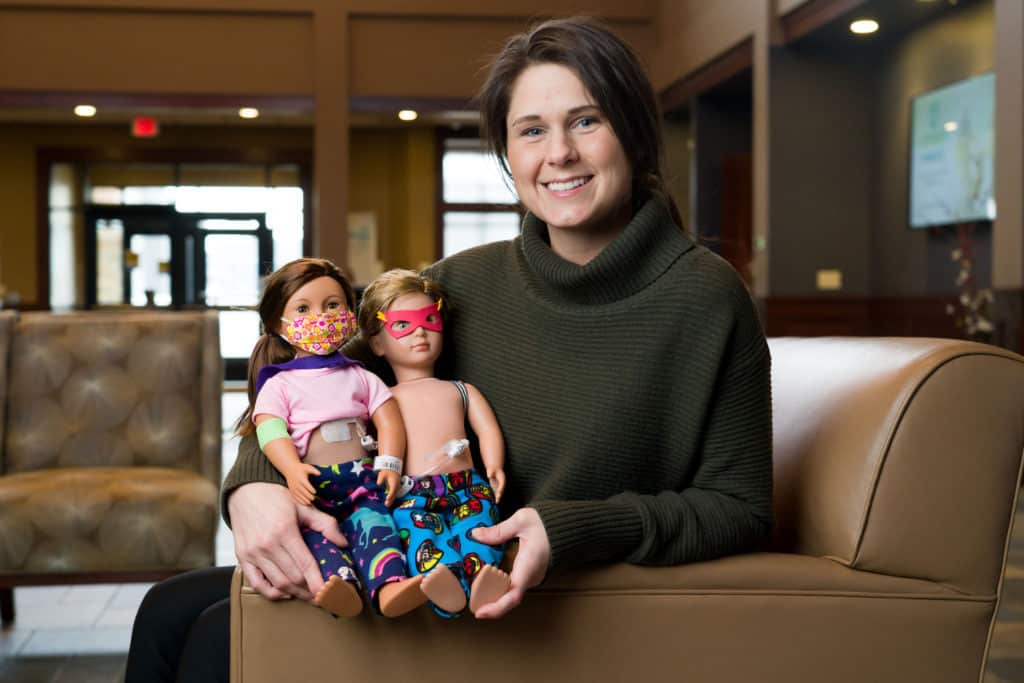 Helping Little Warriors Overcome Big Battles
Empowering children through their illness and supporting families in need, learn how Henrik's Heroes raised $13,000 for their first Giving Hearts Day in 2020.
What first started as a concept for Janna Westerholm to help her son, Henrik, as he underwent treatment for acute lymphoblastic leukemia (ALL) in 2017, quickly transpired into providing hope for many more families across the region.  Founder of Henrik's Heroes, Westerholm reflects on the moment her son was diagnosed and the overwhelming emotions she felt.
"When we were first diagnosed, I vividly remember sitting in the hospital… thinking, no, I don't want this. I don't want my son to have cancer," Westerholm continues. "But, after those first few months, it was amazing to see how our outlook really changed…we received messages from all over the county, praying for us. It brought me to tears."
When treatment became resistant, Henrik soon received a bone marrow transplant as his brother, Harrison, was a match. During this time, that's when the moment the idea for creating "Warrior Dolls" first came to light. Warrior Dolls help children better understand their medical treatment. Each doll is customized to match the child's medical needs, so they can familiarize themselves with medical equipment, in return, bringing them comfort and control through their health challenges.  
"It was really eye-opening how this doll was so helpful during treatment…Henrik just clung to his doll that he named Aaron, and he had to go through everything that he went through," Westerholm continues. "The Warrior Doll became his little buddy, and it helped him cope."
Humbled by the Generosity
Since 2019, more than 95 Warrior Dolls have been distributed to provide hope for a healthier tomorrow to empower children and support families undergoing cancer treatment, organ transplants, and many other chronic health conditions.
With Westerholm's son is now in remission, Henrik's Heroes has gone on to help many little warriors and their families overcome big battles by raising $13,000, including a $3,000 match, as a first-time participating charity in Giving Hearts Day 2020. "I cannot believe the generosity of our community! It was humbling how many people were willing to support Henrik's Heroes…," Westerholm says. 
In addition to surpassing their goal, Westerholm encourages new nonprofits participating in the 24-hour giving experience to not allow fear to dictate their steps and to ask donors for their support with confidence. "Putting yourself out there is what it's all about and getting over your fears," Westerholm continues. "The hardest part about Giving Hearts Day, and deciding to create a charity, has been asking for money – but it's such an important ask to get people involved and to share your story, so they can see what you're doing and what they're contributing to."
What's Next for Henrik's Heroes?
With her first Giving Hearts Day accomplished, Henrik's Heroes has many plans on the horizon, including recruiting volunteers to design and distribute dolls, hosting toy drives to donate to children in the hospital, "go bags" for newly diagnosed families, and much more.  "We'd like to support families through their hard times and help them turn it into something positive in any way that we can to let them know people care," Westerholm says.
From the first day her son was diagnosed with cancer to the humbling generosity her family experienced from many across the region, Westerholm explains how she and her family are dedicated to paying it forward. As a result, a Warrior Doll from Henrik's Heroes is more than a superhero wearing a cape; it's a child and their family facing a life-threatening medical condition with hope and perseverance.
Westerholm says, "It's amazing to be able to help just a little bit in hopes that they can look back at this one day, and not only want to have a desire to give back and help others but to just help them hopefully be thankful for their suffering, as we are now."
Show Your Support Today
If you're interested in learning more about Henrik's Heroes, how to get involved, or would like to make a donation to their cause, click the button below to visit Henrik's Heroes Giving Hearts Day profile.