Dakota Medical Foundation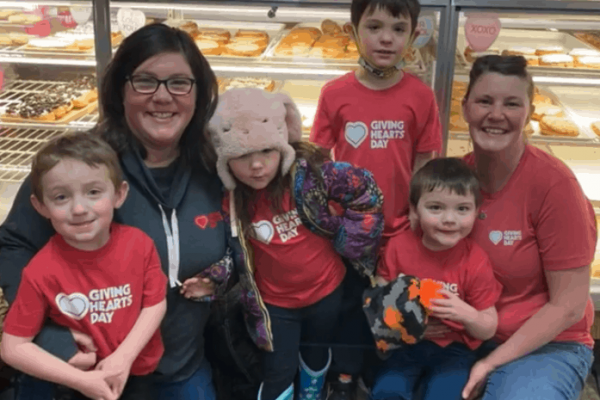 Experiencing the Power of Unity
Langdon, the North Dakota farm community of nearly 2,000 people, experienced the power of unity this Giving Hearts Day.
Carrie Hope is the principal of St. Alphonsus School in Langdon, a school that is near to her heart. Her children are the fourth generation in her family to attend St. Alphonsus, now in its 100th year of operation. Grades preschool through eighth grade are taught in classes averaging at around eight students. In addition to serving as the school's principal, Hope also teaches preschool. With the combined titles of principal, teacher, and mother, ambition is certainly something that comes naturally to Hope.
She remembered her husband telling her about a radio ad for Giving Hearts Day in years prior. Fellow St. Alphonsus parent and Giving Hearts Day veteran Sarah Hinnenkamp confirmed her intuition – this was something worth trying. Hinnenkamp had been professionally involved with a variety of Giving Hearts Day causes and organizations during her time living in Fargo. She was excited to participate again. And so St. Alphonsus officially became the first Langdon area charity to take part in the event.
With a bold goal of $30,000 and backing from the school board, the two began spreading awareness in a region where there was little to none. Hope was seeing the infectious excitement for the first time, and Hinnenkamp saw a new side of the operation than she ever had before. It became something the whole town was looking forward to.
The local bakery donated half of its proceeds on Giving Hearts Day to the St. Alphonsus cause. When Hope and her children stopped by that morning, they stood in line behind two other St. Alphonsus families and were followed by two public school teachers who wished them a happy Giving Hearts Day and expressed their hopes for a successful fundraiser. They were surrounded by supporters.
Within the school, students and teachers were decked out in red, and the enthusiasm was tangible. Students ate heart-shaped cookies and posed for pictures in heart gear. It was something that lifted their spirits in the slump of winter. When the day closed out, St. Alphonsus school had raised a grand total of $44,400.
The St. Alphonsus inaugural Giving Hearts Day far exceeded expectations. When asked to what they attributed this success, Hope gave credit to the caring community. Calling on their neighbors reinforced the importance of teamwork and gratitude. Because of their generosity, the school can now expand its means to inspire learning.
While every Giving Hearts Day brings greater numbers than the year before, we can't forget to acknowledge how each individual charity factors into the whole. The Langdon community has shown us the magnitude of our potential to help someone. One charity's success is life-changing. The success of 500 charities is monumental. The success of every charity will make ours the most generous region on the planet.