Dakota Medical Foundation
Ambassadors Raising Healing and Hope
Did you know you can join a team of ambassadors that raise healing and hope for families facing a medical crisis? It's true! Keep scrolling to learn more.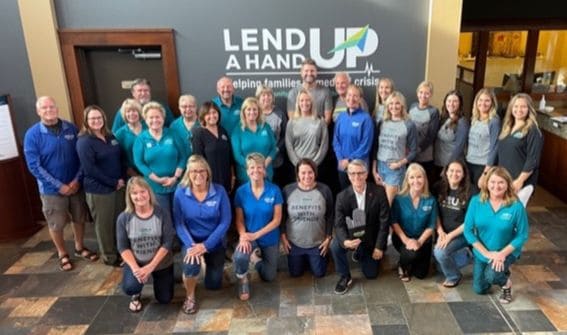 Lend A Hand Up has a strong base of long-term ambassadors, along with a team of passionate new members who build awareness and support for the program's resources and fundraisers.
If you're interested in becoming a Lend A Hand Up ambassador, here's what to expect as a member of the team:
A

ttend four benefits a year wearing your Lend A Hand Up gear to show your support.

B

uild awareness for Lend A Hand Up resources to help families in medical crisis.

A

ttend ambassador meetings twice a year to share ideas and build connections.

Know your support is making an immediate impact. 
Still need your Team Lend A Hand Up gear? Don't worry — there's still time. Now through Sept. 15, you can get your very own Lend A Hand Up apparel to show your support for families facing a medical crisis.
But, don't wait, these incredible pieces are going quick!! Click below to find your go-to gear and to start building awareness today!